What's New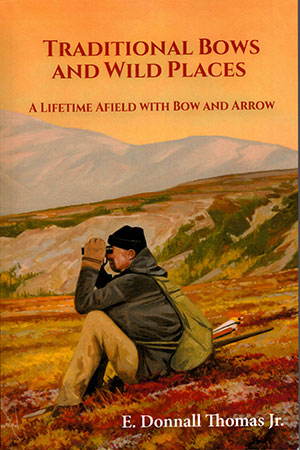 After 10 years of rest, I finally got busy and wrote another book, Traditional Bows and Wild Places, which falls into the category of "books I've always wanted to write." While it certainly includes a lot of bowhunting material, it is not strictly a bowhunting book.
The observant hunter will inevitably learn a lot about wildlife, wilderness, and natural history while paying attention in the field. In this book, my goal is to convey the excitement of the chase while reflecting upon many of the things I've learned over the years that don't actually involve shooting anything. I hope this description won't discourage serious bowhunters from taking a look, and I also hope it will encourage casual hunters interested in learning more about the wide world around them.
As my regular readers know, I do a lot of travel, and the book explores a number of destinations. It includes long segments on Montana and Alaska, logically enough since those are the places where I've spent my adult life, but the material also explores Africa, the Pacific, and the American South. As the title suggests, many of the stories are set in the backcountry.
Regular readers also know that I don't write much of what is known as "how-to" in the outdoor writing press. I dislike implying that I automatically know more than the reader, since I often don't. However, after 70 years in the field I have inevitably acquired some of what the Professional Bowhunters Society refers to as "knowledge through experience," which, in my opinion is far more valuable than "knowledge through the Internet."
As I have always done in my writing, I try to convey this through storytelling rather than if I were giving a college lecture. It just seems to go down smoother that way. While I think that even experienced hunters will learn a thing or two, or at least be motivated to discuss some challenging issues, the thrust of the book is more about exploring the wild, friendships and meeting new people, getting along in the wilderness, and appreciating wildlife than learning how to shoot a bow.
This volume is more expansive than most of my previous books, including over 300 pages of text and 50 photographs, most of them due to hard work by my wife, Lori. Cover art is by my old friend Bob White, a backcountry veteran and one of the country's premier illustrators of wildlife and outdoor sports. Bob's art work can be seen at www.bobwhitestudio.com
Lori and I hope you will enjoy the book.